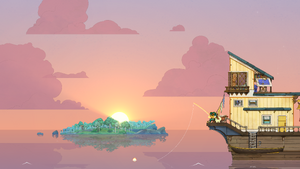 Fishing is part of the gameplay of Spiritfarer. Caught fish (and other seafood) can be used in the kitchen to prepare simple or elaborate dishes for Stella's passengers.
Instructions
[
]
Go to Stella's fishing chair (a white outline should appear), and press [Interact] to sit and cast the line.
Wait for the lure to dip, which indicates a bite.
Press [Interact] to hook the catch, and keep it pressed to reel it in.

Keep an eye on the rod/line's colour. When the line is yellow/orange, it is safe to keep the [Interact] key held.

Press [Cancel] to stop fishing.

When a fish is caught, Stella will raise her fist in celebration. Quickly pressing [Cancel] then [Interact] will cause Stella to skip this animation and immediately cast the line again.
Possible Catches
[
]
There are 33 total fish species counted by the game (this includes the Empty Shell) which can be caught in particular regions, weather areas (rain or fair), and times of day (unclear if time of day matters). Of those, there are three types of Tuna which can be caught only in the Tuna Spots marked on the ship's navigation map. Additionally, there are a handful of non-fish items you can catch.
Fish
[
]
| Fish | Location | How to Get | Time | Weather |
| --- | --- | --- | --- | --- |
| Albacore Tuna | Furogawa, Everdoor Tuna Spot | Fishing | Any | Any |
| Anchovy | Crow's End (Northeast) | Fishing | Any | Clear |
| Bay Shrimp | Hummingberg (Spring), Furogawa | Fishing | Any | Clear |
| Black Tiger Shrimp | Hummingberg (Spring), Oxbury | Fishing | Any | Rain |
| Bluefin Tuna | Hummingberg (Winter) Tuna Spot | Fishing | Any | Snow |
| Blue Salmon | Hummingberg (Winter) | Fishing | Any | Any |
| Char | Hummingberg (Winter) | Fishing | Any | Any |
| Clam | Oxbury | Ship Hull | Any | Any |
| Cobia | Crow's End | Fishing | Any | Clear |
| Cod | Hummingberg (Spring), Furogawa, Crow's End (Southwest) | Fishing | Any | Clear |
| Common Mussel | Any | Ship Hull | Any | Any |
| Cuttlefish | Oxbury | Fishing | Any | Clear |
| Empty Shell | Any | Ship Hull | Any | Any |
| Eel | Hummingberg (Spring), Oxbury | Fishing | Any | Rain |
| Flounder | Oxbury | Fishing | Any | Any |
| Giant Scallop | Oxbury, Crow's End (Northeast) | Ship Hull | Any | Any |
| Haddock | Crow's End | Fishing | Any | Clear |
| Halibut | Crow's End | Fishing | Any | Clear |
| Hard-Shell Clam | Oxbury, Crow's End | Ship Hull | Any | Clear |
| Herring | Hummingberg (Spring), Furogawa | Fishing | Any | Clear |
| King Salmon | Oxbury | Fishing | Any | Clear |
| Lobster | Hummingberg (Winter), Oxbury | Fishing | Any | Any |
| Mackerel | Furogawa, Oxbury | Fishing | Any | Rain |
| Mahi-Mahi | Oxbury | Fishing | Any | Clear |
| Octopus | Oxbury | Fishing | Any | Clear |
| Oyster | Oxbury | Ship Hull | Any | Any |
| Scallop | Hummingberg (Winter), Oxbury | Ship Hull | Any | Any |
| Snow Crab | Hummingberg (Winter) | Fishing | Any | Any |
| Sockeye Salmon | Crow's End | Fishing | Any | Clear |
| Sole | Hummingberg (Spring), Furogawa, Crow's End (Southwest) | Fishing | Any | Any |
| Squid | Hummingberg (Spring), Furogawa | Fishing | Any | Any |
| Urchin | Crow's End (Southwest) | Ship Hull | Any | Any |
| Yellowfin Tuna | Oxbury Tuna Spot | Fishing | Any | Any |
Non-Fish
[
]
| Non-fish | Region |
| --- | --- |
| Ceramic Bowl | |
| Crystal Chandelier | |
| Empty Bottle | |
| Large Glim Bottle | |
| Medium Glim Bottle | |
| Mysterious Seed | Any, after escorting four spirits to the Everdoor |
| Old Shoe | Hummingberg (Spring), Furogawa |
| Small Glim Bottle | |
| Valuable Necklace | |
Trivia
[
]